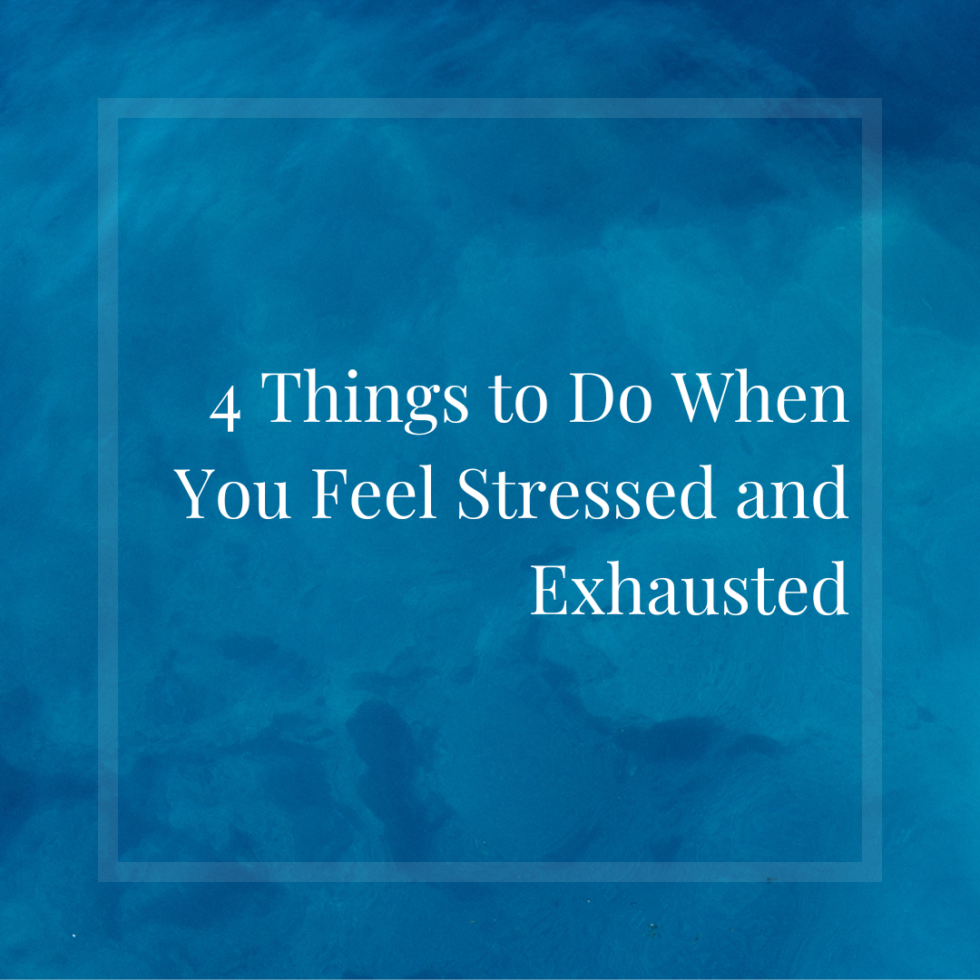 4 Things to Do When You Feel Exhausted and Stressed
Hey Friend!
Today's encouragement is the transcript of next week's "That's Just What I Needed" podcast. I wrote it after a heartfelt conversation with a group of women from various parts of the country. But, because you are my special blog friend, I've included a bonus just for you at the end of this devotion, so please read to the end!
If you haven't listened to the podcast yet, I think you'll love it (at least, I hope you will!) New episodes come out every Wednesday, and you can find it everywhere podcasts are found: Apple, Google, Spotify, Sticher, Podchaser and more!
Also, I'd love to connect with you on Instagram @donnaajones.
xo, 
Donna
4 Things Christians Can Do When We Feel Exhausted and Stressed
Looking back, I'm not sure why I acted as I did. I suspect it was simply because I understood the stress she felt. She was in the middle of a bonafide meltdown and, like an old rubber band, she'd been stretched too far one time too many.
I pulled her onto my lap and wrapped my loving arms around her weary body. I wasn't sure how she'd respond. Would she resist? Tell me to back off? Think my gesture was over the top?
She did none of these things. Instead, she pressed her head to my chest and…relaxed. Her chaos melted into calm.
She was my daughter and she wasn't six. She was sixteen.
Recently, I was in a group of women from various parts of the country. One by one, each shared a prayer request. It didn't take long to notice a theme: we are TIRED.
Some of us are battling emotional exhaustion, some spiritual exhaustion, and some physical exhaustion. But, no matter the form, the collective weariness we feel is taking its toll. We are rubber bands, stretched too far. About to snap.
Which raises the question: Is there anything we can do when stress, exhaustion, and weariness weigh us down? The good news is, yes.
Identify the Source of Exhaustion
As I listened to the women from various parts of the country voice their weariness I realized the source of their exhaustion (and mine, too) came from one of three places: emotional, spiritual, physical, or some combination of the three.
Generally, the reasons for our exhaustion play themselves like this:
Physical Weariness: too much work and not enough rest.
Emotional Weariness: too much drama or trauma and not enough joy or laughter.
Spiritual Weariness: too much service for God and not enough connection with God. Or sidelining God altogether.
The first step in combatting exhaustion is to identify the source. Why? Because the remedy to our stress and weariness must address the root cause.
For instance, the remedy for physical exhaustion is likely a nap or a good night's sleep. Emotional exhaustion probably means you need a break from drama (less news, anyone?), a date with a friend or spouse who makes you laugh or lets you cry, or simply some time all by yourself. Spiritual exhaustion is alleviated when you make space to fill up more than you pour out.
To wisely handle stress and exhaustion, start by identifying the source.
Make a Plan to Address your Exhaustion
Identifying the source of our weariness is a good first step, but we must also make plans to do something about it.
This is crucial because a prolonged season of burden can easily lead to a profound season of burn-out.
If you feel dangerously close to burnout, realize exhaustion is only alleviated when action is taken. Words won't help.
For instance, no one ever felt rested by saying, "I need a good night's sleep." No one ever overcame spiritual dryness by admitting, "I need to spend more time with God." No one ever had an emotional burden lifted by thinking, "I should probably tell someone what's going on."
In other words, we need a plan we put into action.
We know this. We just don't always do this.
I suspect we don't follow through with our well-intentioned plans because we either:
Find it difficult to set healthy boundaries
Feel a sense of guilt associated with rest
Suffer from FOMO (fear of missing out)
Fell too tired and stressed out to deal with the fact that we're too tired and stressed out!
Here's a fun fact that might help if you suffer from any of the above: Jesus took naps (check out Mark 4:38-40 if you don't believe me).
Why would the Bible record this trivial piece of information? I suspect it's because it helps us understand that in His humanity, Christ needed rest. And, He took it. Even though (because?) the salvation of the entire human race rested on His shoulders!
So, step #2: Come up with a plan and do it!
Allow Jesus to Help You
Just so you know, this suggestion isn't a religious add-on I included because this is a Christian blog post.
Jesus told us He wanted to help us:
"Come to me all who are weary and burdened, and I will give you rest. Take my yoke upon you and learn from me…and you will find rest for your souls." -Jesus (Mathew 11:28-29)
Sometimes we need help calming our weary souls.
The day I pulled my teenage daughter onto my lap is proof.
I've often thought how nice it would be to be a child again; to have someone take charge of calming my internal anxiety or external exhaustion by simply allowing me to sink into their serenity and infuse me with their strength.
We are God's daughters, His children.
Recently, I read the words of Psalm 46:
God is our refuge and strength, an ever-present help in trouble (v 1)
and
"Be still, and know that I am God…  (v 10a)
The familiar scripture recaptured my heart and I wanted to know more. What would it look like for me to be still and know? 
So, I did I word study on the phrase "be still"(or, as some versions read, "cease striving") and the word translated as "know". What I discovered was just too good not to share with you.
The word translated, "be still" can also be rendered as "sink" or "relax". "Know" means to acknowledge or to live aware.
So, the verse could read, "Relax, sink into Me, and live aware that I am God."
Immediately, my memory reeled backward and the image of my stressed-out teenage daughter came flooding back.
What I did for my child, God wants to do for His child. Namely, you.
Will you let Him?
Choose Rhythms of Rest
Once we've identified the source of our exhaustion, made a plan, taken action, and allowed Jesus to help refresh us, we need to make these practices, rhythms.
Eight hours of sleep only goes so far. One morning worshiping God won't sustain me forever. One belly laugh, one walk in nature, one 90-minute massage, can only do so much.
It's no accident that God commanded His people to rest on the Sabbath. Every seven days they paused from work, acknowledged God, and communed with one another.
"Remember the Sabbath Day and keep it holy." This command was a gift.
Growing up, my southern grandmother used to say, "she's runnin' like a house afire." I suspect most of us live like this, at least in some aspect of our life.
Sadly, a house afire eventually turns to ashes.
So, let's make our plans to rest become practices of rest. And, as we do, let's lean into Jesus, who invites all those who are weary and burdened to come, sink into His loving grace-filled arms, and find rest for our weary souls.
You are loved,
Donna
PS. As promised, here's a bonus list of practical actions to take to help lessen your stress, alleviate your exhaustion and refresh your soul.
20 Ideas to Refresh Your Body, Mind and Soul
Take a walk in nature
Take a week long break from the news (the world will keep spinning).
Take a nap
Make a lunch date with a friend you makes you smile
Listen to praise music (sing along for extra refreshement!)
Join a small group, Bible study, etc. Don't lead, just soak it in.
Eat more fresh fruits and vegetables and less sugar and refined foods
Take a vacation or stay-cation
Journal your feelings and talk to God about everything you're experiencing
Ask for help. You don't have to do it all.
Drink a glass of water (one glass of water calms your emotions)
Walk barefoot in the grass (scientifically proven to reduce stress)
Stop avoiding and deal with the thing that's zapping your emotional energy
Go to bed one hour earlier than usual (try it for a week)
Read the Bible (try Psalms)
Make an appointment with a Christian therapist
Buy a new pillow
Take a bath
If you have kids, put them to bed at a decent hour
Notice the good stuff. Write it down in a gratitude journal
More than a Bible teacher, Donna is a self-described Bible explainer. A colorful storyteller who combines Biblical truth with real-life anecdotes, her messages not only help listeners understand God's Word, but most important, grasp how to live it out in real life.