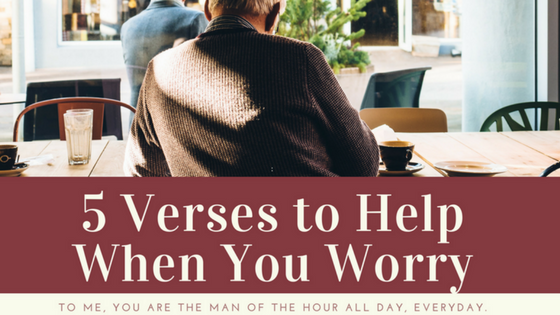 5 Verses To Help When You Worry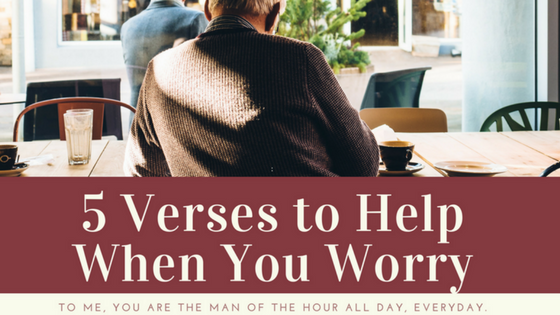 We gathered in the hospital waiting room while my dad received a pacemaker on Monday afternoon; me, JP, our three kids, my brother-in-law, and of course, my mom. The human connection in the tiny sterile room calmed us, making the wait during dad's surgery a little less overwhelming. Apparently, pacemaker surgery is considered common and minor. But when your loved one is undergoing a procedure, nothing about it feels either common or minor.
When a loved one undergoes anything out of the ordinary—health related, or not—it feels major. Mostly because we women feel things. Deeply.
When we love deeply, other's pain becomes our pain; their joy becomes our joy. We have compassion because we care.
That's a good thing.
But the same feelings that cause us to be intensely caring can also cause us to be insanely controlling. And feelings that make us attentive sometimes make us anxious.
That's not such a good thing.
The night before Dad's surgery I slept fitfully, worried and anxious. Each time I woke though, my mind turned to scripture. The hope of God's loving care relieved my stress, enabling me to drift back to sleep.
Just in case your loved one is undergoing something that feels major (whether others think it's a big deal or not), I thought I'd share the Bible verses that helped me most. Maybe they'll help you, too.
Isaiah 26:3
You will keep in perfect peace
    all who trust in you,
    all whose thoughts are fixed on you!
1 Peter 5:7
Cast all your anxiety on him because he cares for you.
Matthew 6:26-27
Look at the birds of the air; they do not sow or reap or store away in barns, and yet your heavenly Father feeds them. Are you not much more valuable than they? 27 Can any one of you by worrying add a single hour to your life?
Philippians 4:5-7
 Let your gentleness be evident to all. The Lord is near. 6 Do not be anxious about anything, but in every situation, by prayer and petition, with thanksgiving, present your requests to God. 7 And the peace of God, which transcends all understanding, will guard your hearts and your minds in Christ Jesus.
Psalm 37:23-24
The Lord directs the steps of the godly.
    He delights in every detail of their lives.
24 Though they stumble, they will never fall,
    for the Lord holds them by the hand.
May God use His words to bring you peace, restore your hope, and give you the strength you need to endure. You are loved!
More than a Bible teacher, Donna is a self-described Bible explainer. A colorful storyteller who combines Biblical truth with real-life anecdotes, her messages not only help listeners understand God's Word, but most important, grasp how to live it out in real life.