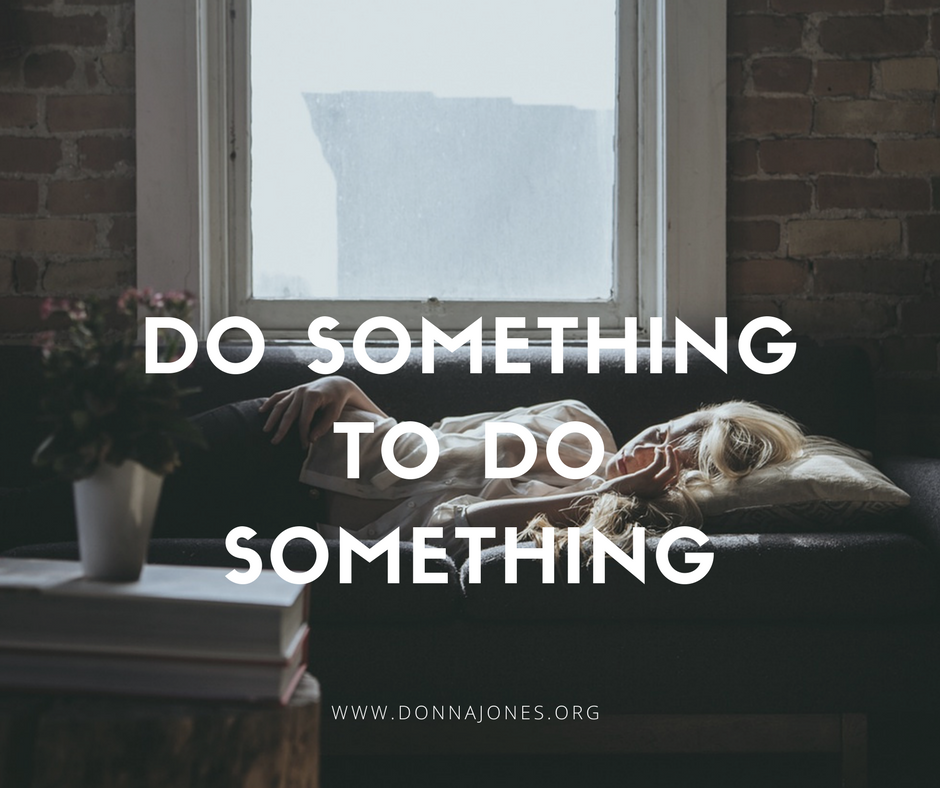 One Thing that Can Make 2018 Better than 2017
I reached the top of our stairs and was greeted by piles of neatly stacked clothes.
Did someone do laundry? I hadn't heard the washing machine or dryer.
Then I noticed a trail of piles, reaching to our bedroom door. When I stepped inside our room, there stood JP, with even more clothes stacked on our bed.
What in the world?
He looked up. A wide smile spread across his face.
 "I'm getting rid of the old stuff to made room for my new stuff", he explained.
"Wow. Impressive."
His initiative inspired me—but not enough to actually clean out my own junk. Instead, I grabbed a pillow, and headed downstairs to take a nap in an attempt to sleep off my holiday weariness.
An hour later, I returned upstairs. This time JP proudly opened his drawers and closet. "Look how much room I have for the good stuff, now that I've gotten rid of the old stuff!"
So if you're thinking , my husband would never do something like that, let me stop you right now. That's not the point of this story (and until a few days ago, my husband had never done this either).
So what is the point?
Sometimes we have to make space for the best stuff by getting rid of the old stuff.
For many of us, the New Year brings new resolutions. New attempts at a better life. New habits we want to embrace. New goals we want to achieve.
But if you are like me, sometimes I get too tired to clean out my old stuff—old habits, old ways of relating, old ways of doing life, old sin patterns. Honestly, a nap underneath a cozy blanket sounds a whole lot more appealing (not to mention, easier) than cleaning out my emotional, relational, and personal junk. But then I wonder why it's difficult to embrace new, better stuff in my life.
In order to make progress, we've got to do something to do something.
Sometimes the "something" I need to do, is throw away old stuff that doesn't serve my purpose anymore. Did you know God confirms the idea of throwing things away?
"Therefore, since we are surrounded by such a great cloud of witnesses, let us throw off everything that hinders and the sin that so easily entangles. And let us run with perseverance the race marked out for us…" Hebrews 12:1
I'm finally realizing I can't just cram new stuff into the space the old stuff already occupies.
I guess the old adage, "Out with the old, in with the new" has street cred. There are moments we need to throw stuff away. And I'm not just talking about clothes.
We can't expect God to do new things if we keep holding on to old things.
We can't expect God to do new things if we keep holding on to old things.
Click To Tweet
So let me ask: Is there anything in your life you need to throw away, in order to make room for something better? Is anything hindering you? Your relationships? Your physical, emotional, or personal health? Maybe it's time to take a cue from JP, and make your own "give away" pile.
Here's a list of ideas to get your thoughts going:
Maybe you need to de-clutter your schedule to make room for your relationships.
Maybe you need to toss your bitterness to make room for peace and happiness.
Maybe you need to ax the barrage of social media, so you can enjoy your one and only life.
Maybe you need to end your day a little earlier, so you can enjoy the benefits of a good night's sleep, and increase the odds of being kinder and more patient.
Maybe you need to stop spending money on things you really don't need, so you can make room to help someone who really does need.
Maybe you need to readjust your schedule or priorities to flourish in a new season of life.
Maybe you need to stop making excuses about why you can't go to church, join Bible study, or read your Bible, to make room for God to grow you in ways that will blow your mind.
Maybe you need to toss your disappointment to make space for acceptance.
Maybe you need to lay aside old doubts to make room for new faith.
Maybe you need to put off indecision to make space for action.
Maybe you need to throw out fear, and make way for freedom.
Maybe you need to pitch procrastination, and make a way for accomplishment.
Maybe you need to rid your thoughts of worry so you can fill your thoughts with trust.
Maybe you need to toss an unhealthy habit to make space for a healthier, happier you.
All of us have something we need to toss. Something that hinders us from being, and doing, all God intends for us to be, and do.
What is your thing? What's hindering you? Don't try to cram the good stuff in with the old stuff. Take the old stuff and throw it away.
Remember: We can't expect God to do new things if we keep holding on to old things.
I'd love to encourage you, and pray for you, as throw away the stuff that hinders you this year. Leave a comment below and let me know what you've decided to toss in 2018. I'll go first: I'm pitching procrastination this year to make way for new accomplishments! What about you?
Do something to do something.
Click To Tweet
Lord, help me throw away things in my life that hinder me, so you have room in my life to help me grow personally, spiritually, emotionally, relationally and physically in 2018. Amen.