Overcoming Discouragement (Because we all have to at some point)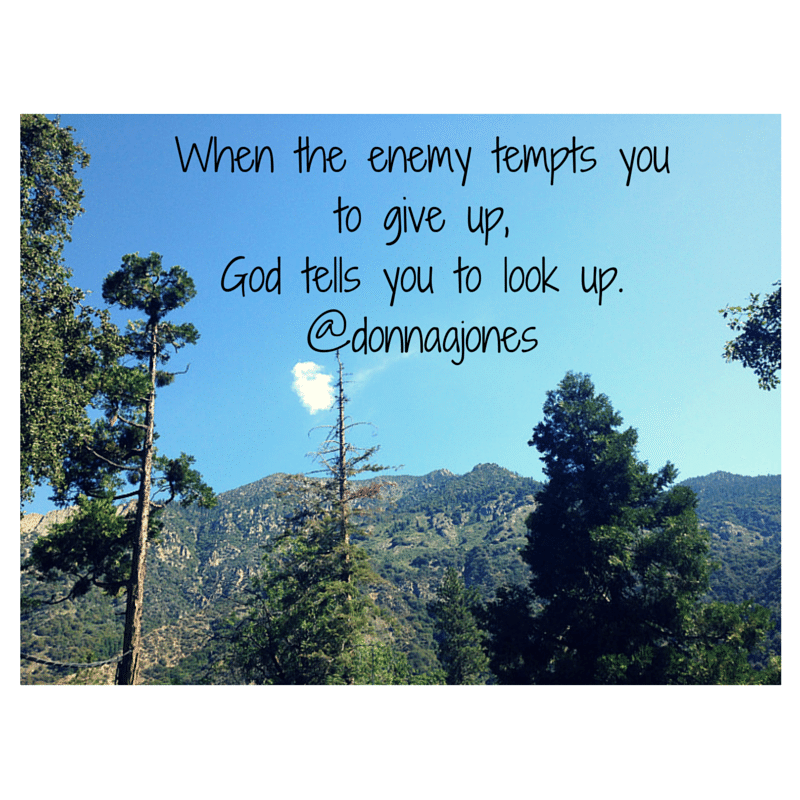 "Do not be discouraged".
Easier said than done, right? Especially when someone squashes your dream. Or questions your ability. Or criticizes your work. Or has more success than you do. Or when failure knocks you right up the side of the head.
It doesn't take much to make us feel the sting of discouragement. A word. A look. An unfulfilled longing. A rejection. These simple things can send us plummeting into the cavern of discouragement.
Still, on more than one occasion, God told his people, "Don't be discouraged." Just don't.
In other words, don't allow yourself to be discouraged.
Discouragement starts in the mind. We tend to think discouragement comes from our circumstances: something didn't work out; so and so said such and such. But discouragement isn't as much about our situation as it is our perception of our situation (think David and Goliath). Slipping into the kind of negative thinking that leads to discouragement is all too easy.
I know because in the past couple of days I've allowed a comment or two–not even ones that were meant to be discouraging, mind you–make me feel discouraged. I'm an upbeat person, but still…I let my mind dwell on words that hit a tender nerve, and as a result, felt the pang of discouragement. Discouragement happens to all of us. If we let it.
So I've been pondering discouragement and its effects. On me. On you. On all of us.
Feeling discouraged is different from being discouraged. The feeling affects our emotions; the being affects our actions. The feeling is fleeting; the being is defining. At some point everyone feels discouraged but not everyone becomes discouraged. The feeling doesn't mandate the being–if we handle it God's way.
In Hebrew the word "discouraged" is also translated as "shattered".  Isn't that a vivid picture of what happens when we allow discouragement to rule? When we allow the feeling to morph into the being? Our confidence is shattered. Our faith is shattered. Our hope is shattered.
We feel broken.
Discouragement is destructive; it's never constructive.
Click To Tweet
Sometimes people—even well meaning ones—can lead us down the path of discouragement. If we're honest, sometimes we can be that person–the one doing the discouraging.
But sometimes we don't need others to discourage us; we're perfectly capable of discouraging ourselves, thank you very much.
Why is discouragement so destructive? Because discouragement leads to doubt. Doubt leads to hopelessness. Hopelessness leads to giving up. And getting us to give up is the enemy's mission. It's his end game. His touch down. His slam dunk. When we stop trying, or stop believing, or stop doing, the enemy claps his hands and the demons cheer.
Discouragement will make us think we can't or God won't.  It makes us feel overwhelmed and under equipped or undervalued. And here's the thing: this kind of thinking never comes from faith. Which means it never comes from God.
So God tells us don't go there; don't let yourself go to the place of discouragement. "It's not from Me", he whispers into our ears.
If you've battled with discouragement lately don't listen to the voice of discouragement battling inside your head. Listen to God instead.
The Lord himself goes before you and will be with you; he will never leave you nor forsake you. Do not be afraid; do not be discouraged.
Have I not commanded you? Be strong and courageous. Do not be afraid; do not be discouraged, for the Lord your God will be with you wherever you go.
Then you will have success if you are careful to observe the decrees and laws that the Lord gave Moses for Israel. Be strong and courageous. Do not be afraid or discouraged.
David also said to Solomon his son, "Be strong and courageous, and do the work. Do not be afraid or discouraged, for the Lord God, my God, is with you. He will not fail you or forsake you until all the work for the service of the temple of the Lord is finished.
He said: "Listen, King Jehoshaphat and all who live in Judah and Jerusalem! This is what the Lord says to you: 'Do not be afraid or discouraged because of this vast army. For the battle is not yours, but God's."
Did you notice how often God links discouragement with fear? The root of discouragement is fear. Fear things won't work out. Fear circumstances won't get better. Fear of failure. Fear of isolation. Fear of rejection. Fear that what we bring to the table is not enough. Fear. Fear. Fear.
Did you also notice how God links the antidote to discouragement with His nearness and presence? The reason none of us should allow ourselves to be overwhelmed by discouragement is simple: It's because wherever I go, whatever I face, whatever my circumstance, the Lord will be with me.
So what do I do with discouragement when it threatens to steal my confidence, rob my joy and shatter my strength? What do I do when discouragement tempts me to throw in the towel?
When the enemy tries to get you to give up, God tells you to look up.
Click To Tweet
Don't listen to the voices that lead down the path of discouragement. Listen to God's encouraging voice instead.
Don't be afraid. Don't be discouraged.
Be strong.
Keep going.
You can do this.
I am here.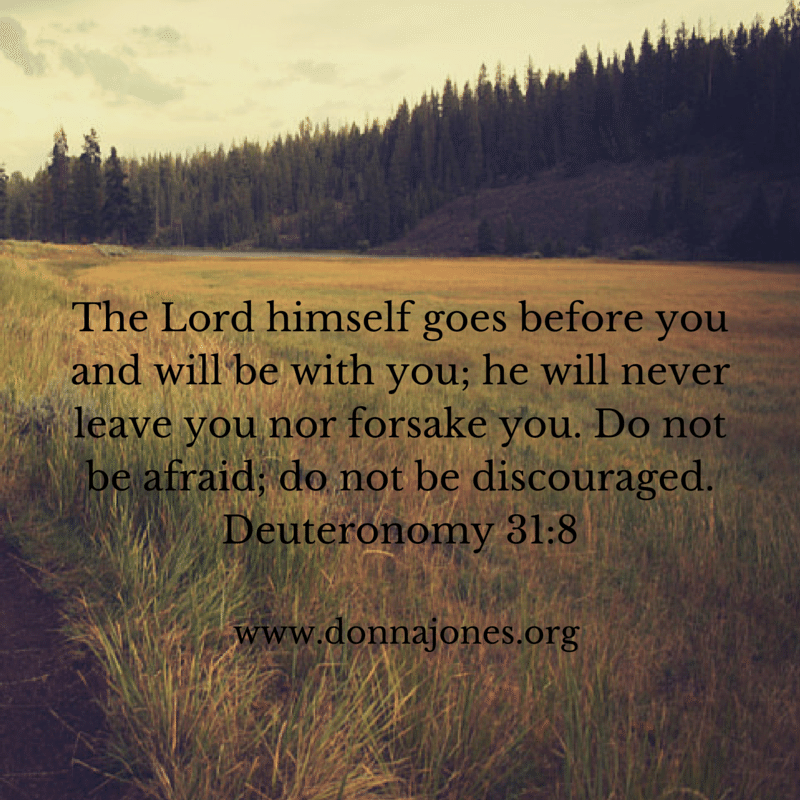 More than a Bible teacher, Donna is a self-described Bible explainer. A colorful storyteller who combines Biblical truth with real-life anecdotes, her messages not only help listeners understand God's Word, but most important, grasp how to live it out in real life.