Overcoming Worry and Book Give-Away Day!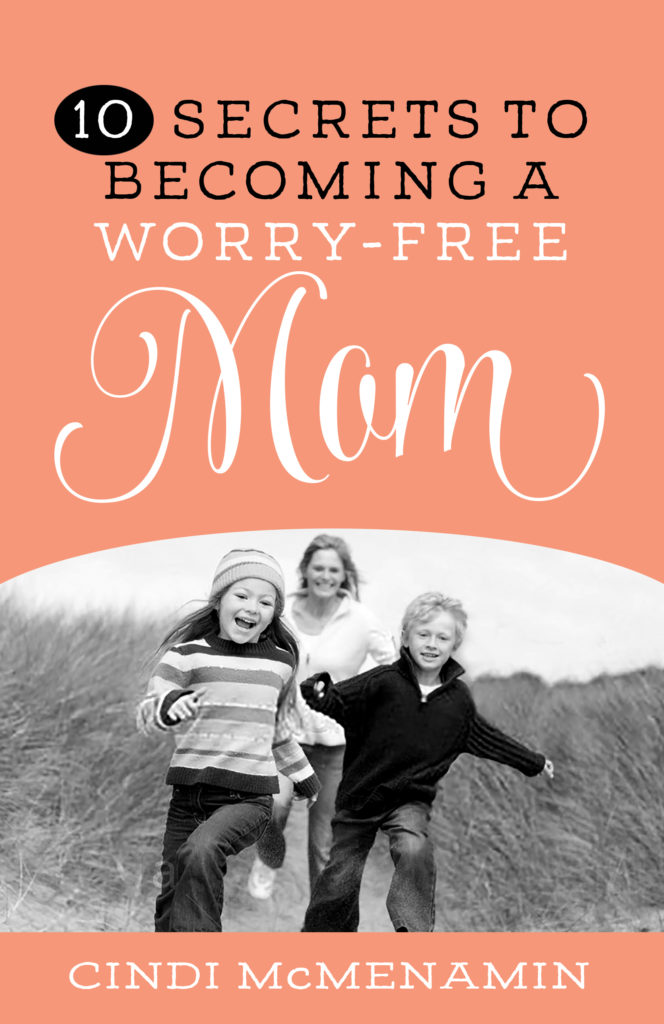 Are you a worrier? I know. Me, too.  Like most of us, my friend, Cindi McMenamin, has struggled with worry as well.  But she's learned a thing or two about how to handle the pesky peace-stealer we call "worry'. In fact, she's written a book on the subject.
This week I've invited Cindi to share her insight. And she's giving away one free copy of her newest book, 10 Secrets to Becoming a Worry-Free Mom. Even if you aren't a mom you'll love Cindi's words of wisdom.  So….take it away, Cindi!
I'll admit it. I can be a worrier.
It happens every time those two words "what if?" creep into my mind and I entertain them for awhile. 
What if I my child gets hurt?
What if I can't pay this bill?
What if I can't do this on my own?  
It occurred to me recently that I begin to play through the "what ifs" every time I forget about God's presence (and the fact that He knows all about what's happening in my life), God's power (and the fact that He is capable of anything) and God's perfect will (and the fact that He will allow whatever comes my way for my eternal best and to shape me into the likeness of His Son, Jesus.)
I also forget, at times, that God actually WANTS me to bring my concerns, fears, and anxieties to Him. In Philippians 4:6-7 we are told: "Don't worry about anything; instead, pray about everything. Tell God what you need, and thank him for all he has done.  Then you will experience God's peace, which exceeds anything we can understand. His peace will guard your hearts and minds as you live in Christ Jesus" (NLT).
Do you ever hold onto your worries because you don't want to bother God with them? Or you think God doesn't care? Or you're convinced it's selfish to ask Him for something?  I realized recently, that if I were focusing on the facts about God's character, rather than relying on my feelings (which can often be misguided), then I'd have nothing to worry about at all.
Let me encourage you with five things God will never say as you and I hand Him our worries and concerns – about our children, our marriage, our lives:
You've got this yourself.
I really don't want to hear about it.
You don't need Me.
Sorry, it's impossible.
I don't want to do anything for you
Instead, these are God's responses to our worries and concerns:
"The Lord will fight for you; you need only to be still" (Exodus 14:14).
"Pour out your heart before Him; God is a refuge for us" (Psalm 62:8).
"[You] can do all things (not on your own, but….) through Christ who strengthens  [you]" (Philippians 4:13).
"With God all things are possible," (Matthew 19:26).
"If you then, being evil, know how to give good gifts to your children, how much more will your Father who is in heaven give what is good to those who ask Him!" (Matthew 7:11).
There you go….He is waiting and able to handle all that concerns you and me. So…let's not keep our worries to ourselves and get anxiety and ulcers over them. Let's hand them to the Only One who can work all things together for good to those who love Him and are called according to His purpose (Romans 8:28).
Cindi McMenamin is a national speaker and author who helps women and couples find strength for the soul. She is the author of 15 books, including When Women Walk Alone, When Couples Walk Together, God's Whispers to a Woman's Heart, and her newest, 10 Secrets to Becoming a Worry-Free Mom.  For more on her books, ministry, or free resources to strengthen your soul, marriage or parenting, see her website: StrengthForTheSoul.com
Enter to receive a free book by leaving a comment.
If you're not yet a subscriber, it's easy!  
Leave your name and email in the form below the comment section.
More than a Bible teacher, Donna is a self-described Bible explainer. A colorful storyteller who combines Biblical truth with real-life anecdotes, her messages not only help listeners understand God's Word, but most important, grasp how to live it out in real life.