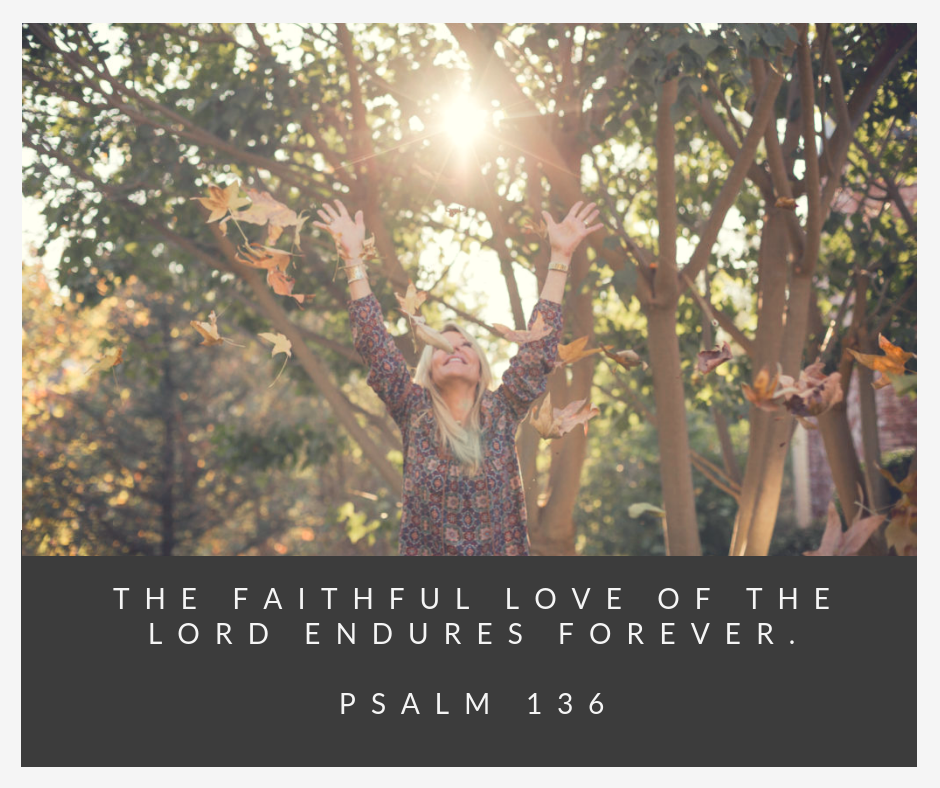 Read This IF: You Want to Be Full of Joy, Know You are Loved, and Filled with Thanks
It's early morning and my coffee hasn't had time to do its thing. I'm still groggy from a fitful night's rest. I open my Bible and start to read, but I stop before I start. Instead, I pick up my pen and journal and begin to pour out my heart to God on the pages of my 99-cent notebook from Target. It seems a funny place for a human to connect with the Almighty, but I don't suppose God minds.
I start with thanks. I didn't really plan it. It just happened. I didn't wake up feeling particularly grateful. Or even spiritual. But I start to write anyway.
Before long, my list grows. Little things. Big things. Things God has done in the past–long past. Things God has done recently. Things God is doing now.
I look down at the page, and I'm a little shocked. The list is long. My heart begins to waken.
Right before my eyes, scrawled on the pages of my Target notebook, I see a record of my life, and God's activity in it. Countless ways God has been faithful to me. Merciful to me. Even during season where I privately wondered, Where are you, Lord? I see now that He was there. Always there.
My eyes brim with tears.
I write these words–they feel a little bit sacred–in my Target notebook
Joy doesn't come because things are good; Joy comes when I appreciate the good. 
Finally, I open my Bible and the pages turn to Psalm 136. I laugh because it's a Psalm of thanks–a very personal one. In it the Israelites recount their own gratitude list. But here's the truly beautiful part: They follow their "thank you's" to God, with the phrase "The faithful love of the Lord endures forever".
They connect God's provision toward them with God's faithful love for them.
On Sunday night, a group of six women sit around my dining room table. We talk about Psalm 136 and how the people of God gave thanks. And then we do what the Israelites did all those years ago: we take turns recounting things we're thankful for–signs God has been at work in our life. It sounds something like this:
I have a job. The faithful love of the Lord endures forever.
I have wonderful in-laws who are the parents I never had. The faithful love of the Lord endures forever.
God saved me, even after a season of distance from Him. The faithful love of the Lord endures forever.
I have more than I need, which wasn't always the case. The faithful love of the Lord endures forever.
I look into the faces of these beautiful women and notice just a hint of grateful tears. Our senses are heightened; we see things we've missed far too long.
The faithful love of the Lord endures forever.
It's so easy to blow past the good, and miss God's acts of blessings. It's easy to forget what God has done, and too quickly move on to the next thing we want Him to do. I suppose that's the beauty of a season like this one.
Thanksgiving prompts me to Thanksliving.
This week, may you pause long enough to say, "thank you" to God. And may you remember that every little thing God has ever provided in your life is His sign–His whisper–that His faithful love to you endures forever.
He remembered us in our weakness.
His faithful love endures forever.
25 He gives food to every living thing.
His faithful love endures forever.
26 Give thanks to the God of heaven.
His faithful love endures forever.
~Psalm 136:23,25-26
More than a Bible teacher, Donna is a self-described Bible explainer. A colorful storyteller who combines Biblical truth with real-life anecdotes, her messages not only help listeners understand God's Word, but most important, grasp how to live it out in real life.